This blog is being delivered to you today via my home server, hosting at home gives the freedom and control to serve websites with a choice (if at all) of advertising, the ability to use technologies which may otherwise incur a charge if using a hosting company. And best of all it is an incredible hands-on way of learning about computer hardware and networking.
If you're looking to do something similar, already have a home server and looking for advice, or for the information on this server, I created a site for just that:

http://www.diyhomeserver.co.uk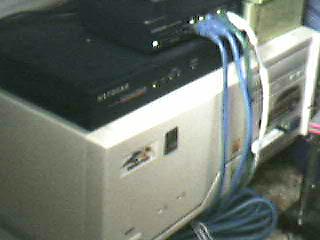 DIY Home Server is a complete guide from choosing the hardware, basic setup and getting it running to more advanced activities that a server can perform. Plus with my decade of experience, all this is done with a budget in mind. It's easy to spend thousands on server equipment, but this guide show how to
get running as cheaply as possible, both in the initial outlay and daily running costs.
But a home server need not mean just a web server, with steps to add more functionality included to make a home server work hard and give you a better computing experience. Some of the topics explained on DIY Home Server include:
Host websites for your content.
Combine your media into a central hub, and access anywhere in the home
Store files in one location, and remove the risk of duplicate files in different locations
Access those files when out and about with a secure connection to the server
Create a CCTV system using the server as a storage pool
Save bandwidth constraints by downloading files during off-peak hours

With the advances in home internet it's never been easier to start running a home server, and there's no need to take a plunge into a full server as most topics can be experimented with on the normal home PC or laptop.
So take a look around and see what benefits a home server can bring to you.