The following website is an example on how I used my server and website skills to provide a solution to creating a communication display in my retail store. A much more detailed insight on the sites inception is available here. But for now…
Here is Canton TV:

The design was to create a visually appealing display providing information on the stores' performance, celebrating success and news on upcoming events that all colleagues could view during their working day.
The display consisted of a television with integral media player, and a USB thumb drive for content. The display relied on content created by colleagues of varying IT literacy, so needed a solution that was easy to use yet yielded rich output that colleagues would pay attention to.
The solution was to create a website and Canton TV acts as the catalyst between a simple message and a visual display, the site allows users to turn a simple message or image they want to share into a video file that it ready to display on screen.
The site is designed to be easy to navigate, giving users of all IT competence the ability to create and publish messages as and when needed to inform the fellow colleague. The home page gives an option of templates to use based on the core store topics: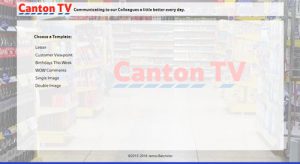 Choosing a topic, the steps take you through the process of creating a video message. Start by writing your message, entering the stores performance or uploading the pictures you want to show off.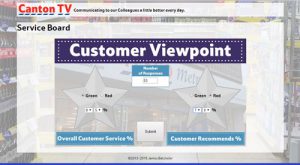 At this stage customisation options are available, like change text size, background images and sound options.
Before committing to making the video, the user receives a preview of the slide with an option to go back and amend if required.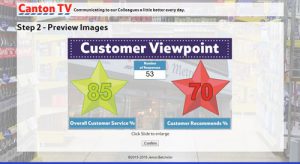 Clicking next starts the video creation process, the screen will update when content is ready.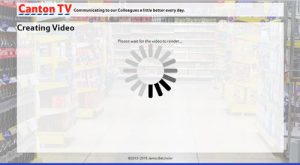 Video ready, click the download now button and choose the USB drive to save on.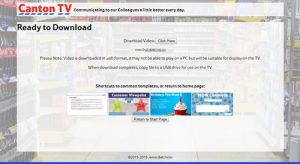 Finally insert the drive into the TV and get the message seen.
The website was available to colleagues from January 2016 until I left the company the following July, However the site is still available to preview at http://cantontv.james-batchelor.com.