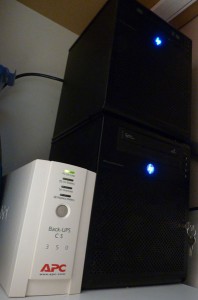 With the new server up and running it seemed fitting to connect it to my UPS, and thanks to the low power consumption of the HP Microservers I still get around 40 minutes of battery only time with both servers running before the UPS runs out of juice.
Unfortunately, the UPS in use only has one monitoring port which is connected to my original server, meaning during a spell of prolonged power outage, the new server will not know when to shut down safely and will continue to run until the UPS runs out of battery supply, leaving it vulnerable to data corruption that affected the original server prior to battery backup.
But with a simple script and some setup both servers can shut down safely before the batteries run out.