Last week my websites suffered their first major outage since I got my new server in April 2011. Luckily it wasn't the server itself, but twas the internet connection that let me down.
I took delivery of a Netgear FVS318N router to replace a basic hub, installed it and did a bit of cable management which involved unplugging my Sagem [email protected] 2504 that I use as a modem.
However upon powering up the Sagem after tidying cables, it has no life, apart from this strange arrangement of light on the front: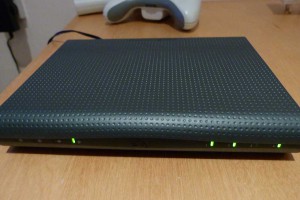 I called Sky (my ISP) support who happily informed me that there is a common issue with the power supply to the Sagem router that caused them to fail. Wanting to get back on the net immediately and conversation about a replacement power supply giving vague delivery lead times, I opted to purchase the new Sky branded router (dubbed the Sky Hub):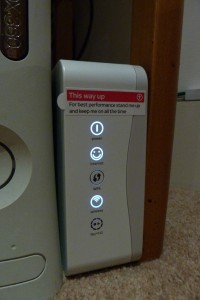 The outage lasted 5 days as I waited for delivery of the new modem. An annoyance of this is that I had a spare, working ADSL modem but this could not be used as Sky does not give out the credentials to log on to their network, instead choosing to pre-load them on the modem before shipping.
Overall its an example of the unexpected issues that can arise when running a home server on a budget.
BOOTNOTE:
It has been mentioned in many Sky internet forums that using an unapproved Sky router, i.e. one not supplied by Sky, will be in breach of the Terms & Conditions. However whilst on the phone to Sky broadband technical support the representative told me that it was acceptable to use a 3rd party router if the user was confident and acknowledged that no support would be given unless a Sky provided router was used.
The case may be that you still need to hand over the cash to Sky for one of their routers and keep it to hand, but after that the choice is yours!