When running a website from a home server, viewing it locally will make it seem that the site is responding lightning fast and there are no issues. But what about the outsiders wanting a look at your content, are they getting the same performance? Chances are they are not, as a visitor's machine needs to negotiate the internet and its equivalent of back streets and country roads to get to the home server's location.
Where a home server can differentiate greatly from hosted solutions is the speed and relative location on the net. Visitors who view a website relies on the upstream connection at the server end to receive the content, and when this is via domestic internet connection the upstream can much smaller than the heavily advertised downstream connection. So it's worth checking the theoretical upload speed to establish what kind of service and content can be served.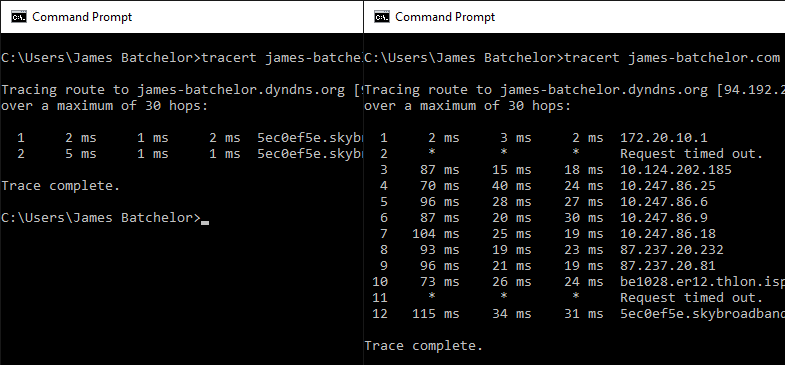 In terms of location, hosting companies are as close to the internet backbone as feasibly possible to get the best speeds and lower latency. The backbone of the net is handled by major operation companies that handle the bulk of all internet traffic between countries and continents, these in turn have datacentres where the traffic from countries are trunked to the different internet providers and down to the end user. As data makes its way from the backbone to the end user, it can hop between different servers as it meanders towards the final destination. For each hop the networking equipment has to read where to send it on, and route it on the right path. This all takes time, even though it is measured in milliseconds, an extended number of hops and the volume of data packets needed may produce a noticeable wait for a user to see the desired page.
All home user's computers need deal with negotiating its way through the service providers' local infrastructure to get to most sites, but when visiting a site hosted on a home server, data may need to navigate another service providers' network to reach the site. This is where visitors may experience slower loading times compared to mainstream sites.
So how to tell if your home hosted website will be speedy when out in the wild? There's a few different ways to check: