Living in a block of flats is a nightmare when it comes to getting reliable wireless network coverage, especially when only having 2.4Ghz Wi-Fi as it is a heavily congested frequency. Over the last few months I've found the connection constantly dropping on my wireless devices, even within a few feet of the access point.
I use a Netgear FVS318N for my wireless connections and a frustration is that the region is locked to Europe, where the radio power is limited more than other parts of the world.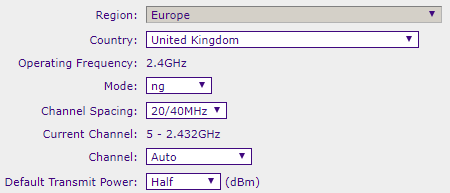 This means the highest achievable power is half, raising it to full results in this dead end:

Very annoying, this post shows how to get a region locked Netgear use all the power available, and to discover what devices in the area are competing for the wireless space.